Swedish inland: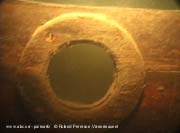 A port hole of Slätteskär staring out in the dark water (see below).
Lake Vänern in central Sweden is Europe's third largest sweetwater lake, after Ladoga and Onega in Russia. Other large sweetwater lakes are Lake Vättern and Lake Mälaren. Many finds have also been made in rivers and on dry land (as a result of land rise).

Björke boat. 7 m long, c 100-300 AD. Found on land in the Gästrikland region in 1947. Simple logboat-type expanded with stitched-on side planks.
The Vendel graves. Boat graves at Fyrisån River in Vendel parish near Uppsala. The graves are dated to c 550-800 AD and the period has been named Vendel Age after these graves. Of the boats themselves almost nothing remains.
Tuna boat. Boat grave in Badelunda parish, Västmanland. This is one of 8 similar graves on the same site, all apparently being women's graves. In this grave (grave no 75) a rich or mighty woman was buried in the late 8th century AD. The boat was 6-7 m long, constructed as a log boat with extended board planks. Excavated in 1952-53 by Erik Nylén, Bengt Schönbäck and Harald Åkerlund. A reconstruction was made in 2000.
Valsgärde boats. Totally, 14 boat graves from 6th to 11th centuries AD have been found in this area near Uppsala. Investigated by Greta Arwidsson in the 1940s. One of the boats was 12 m long, from 9th century. The wood was gone but the iron rivets preserved, indicating the hull outline.
Årby boat. Found as a boat grave in 1938 on land near Uppsala. 4 m long rowing boat dated to ca 850-950 AD. A woman was buried with her horse and dog. The boat, horse and dog are (2002) displayed in the Museum of National Antiquities, Stockholm. At least two reconstructions have been made. Ref. Holger Arbman: Der Fund von Årby (1940).
Äskekärr ship. Viking ship from c 900 AD. Found embedded in the Göta Älv River bank in 1933. Excavated on land and displayed at the Göteborg City Museum. Only the bottom parts remain of a c 16 m long ship.
Bulverket boat, Gotland. This is the largest of three boats found in the Tingstäde Träsk Lake. It's clinker built with one mast, 8 m long, and dendro dated to the 1130s.
Medieval boat? Near Naven lighthouse, Lake Vänern, on 12 m depth, this well-preserved wreck was found in 1999. Clinker-built, not dated. The mast step is in one of the ribs which is quite unusual, reminding of the Galtabäck finds (dated to 12th century). Click on the link for the Real Palyer video.
The Helgeandsholmen wrecks. When the Stockholm parliament was renovated and a garage was prepared in 1978-80, ten or eleven wrecks were found on land. Most were dated to 14th century. Finds are displayed in the Medieval Museum, Stockholm.
Riddarholmen ship. Found on Riddarholmen Island, Stockholm, excavated in 1930. Dendro dated to the 1520s, exhibited in the Medieval Museum, Stockholm.
The Wreck at "Gubbens hôla". Found on 24 m depth in Lake Vänern in 2000. It is a 20 m long clinker-built ship, still not investigated or dated. On the photo by Roland Peterson the galley's fireplace is made of brick. To be investigated by Vänermuseet. Click on the link for the Real Palyer video.
Mälarskuta. Reported by Sture Hultquist. Wreck in Lake Mälaren presumably from 1699.
Erik Nordewall. Side-wheel paddle steamer built in 1836-37, sunk in sweetwater lake Vättern in 1856, discovered very well preserved in 1980.
Freja af Fryken. Swedish passenger steamer built in 1868 and sunk in Lake Fryken in 1896. Found intact in 1976 by a scuba diver on 52 m depth and lifted in one piece in 1994. Unfortunately the renovated ship burned in 1996 but has been restored again in 1997 and is now in regular traffic after a century's intermission.
Slätteskär. Steamship made of wood in the mid-19th century. Sank in 1904 on c 20 m depth in Lake Vänern. Very well preserved with hull and deck fully intact. Photo of port hole (above) by Roland Peterson, Vänermuseet. Click on the link for the Real Palyer video.
Sture. Steamer built of steel, sank in 1935 on 27 m depth in Lake Vänern. Located by fishermen in the 1980s, later investigated by divers. The photos below are made by archaeologist Roland Peterson at Vänermuseet. Click on the link for the Real Palyer video, showing various parts in excellent state of preservation, including the logbook on the bridge.
| | | |
| --- | --- | --- |
| A large block on the deck of Sture (1935). | Sture's galley with potlids. | Ceiling paint falling off in Sture's cabins. |
The list is sorted chronologically. This page is an abstract of the full Vänern and Inland lists in Swedish. Page by PÅ, rev jul '12
---

Back to Nordic Wrecks

Back to Nordic Underwater Archaeology