Gallery
Barrel staves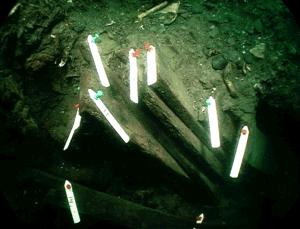 Barrel staves are common finds on "Fredricus". Mostly they are found in a collapsed state prompting careful recording underwater prior to raising the remains.
Macro-phossil samples are taken from every stratigraphical layer and from the areas surrounding (collapsed) stave-built receptacles. Samples are also taken from the sediments within intact receptacles.
These samples might reveal the original contents of the receptacles and perhaps the composition of the ship's victuals.
---

Back to Nordic Underwater Archaeology