Welcome
The Fredricus project
During the autumn and winter of 1998, Bohuslän County Museum in Western Sweden, excavated a frigate scuttled in Marstrand harbour in 1719. The frigate, "Fredricus", was built in 1698 and had served in the Swedish west-coast flotilla and also as a privateer in the service of the notorious Lars Gatenhielm during the Great Northern War.
Work was also carried out to protect another, unidentified, wreck from propeller currents caused by the local ferry. This wreck was dendro dated to 1610. It was partially measured and then covered in clay and sandbagged.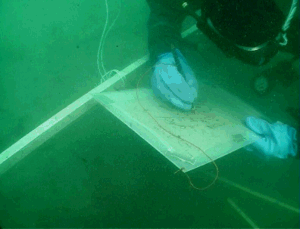 Archaeologist documenting context - layers, timbers, artefact clusters. Photo: Bohuslän County Museum

Questions or comments on our project?
E-Mail excavation director Andreas Olsson.
Bohuslän County Museum
Box 403, 451 19 Uddevalla, Sweden
Tel: +46-522-65 65 00, Fax: +46-522-65 65 05
By D. Haskiya and A. Olsson, 1999, rev 2004.
---

Back to Nordic Underwater Archaeology