Höyry-kone
Last edited: 20020918 Link to Höyry-kones own homepage

Höyry-kone is a finnish band who sometimes are called "Finn Crimson".

Members of Höyry-kone are:

Jukka Hannukainen: vocals, synthesizers and programming
Teemu Hänninen: drums
Tuomas Hänninen: guitars
Jussi Kärkkäinen: guitars, pump organ
Nina Lehos: oboe
Topi Lehtipuu: vocals, violin
Marko Manninen: cello
Jarno Sarkula: basses, pump organ


Discography:

CD Huono Parturi



What APM, the record company had to say:
Our tenth release is
Höyry-Kone
'Hyönteisä voi rakastaa'


They are an eight piece heavy progressive rock band with the following
advanced instrumentation: Jukka Hannukainen - vocals, synthesizers and
programming, Teemu Hänninen - drums, Tuomas Hänninen - guitars, Jussi
Kärkkäinen - guitars, pump organ, Nina Lehos - oboe, Topi Lehtipuu -
vocals, violin, Marko Manninen - cello, Jarno Sarkula - basses, pump organ.
The music can be described as influenced by King Crimson, Gentle Giant, Can
and some Van der Graaf Generator. The first 1/3 of the CD has an 80's
sound reminding of Adrian Belew period King Crimson or like Can or Sade
getting real progressive. On some tracks you can find a craziness
reminding of 'The Prague School' or Henry Cow, but the last 2/3 is very
much in the heavier 70's progressive tradition. However because of the
advanced instrumentation, they have a very unique sound! Some tracks
remind of a more dynamic and weird Anekdoten. One tracke is like a more
symphonic and advanced version of very early Judas Priest aka 'Sad wings
of destiny', but without the vocals of Rob Halford! On top of this they
have a very strong Finnish identity, giving an exotic melancholic or sad
flavour to the music. Since the 70's nothing like this has come out of
Finland, the country of the thousand lakes and huge dark forests! Believe
me, this band might be as popular as Änglagård, Anekdoten and Landberk.
No doubt! Some of the musicians are studying at the Musical Academy in
Helsinki and related schools, which explains their very refined
instrumental skills!!! (Some of them are classically trained!) This band
was discovered by Jan-Erik Liljeström and Anekdoten, who kindly brought
Höyry-Kone & APM together. The two bands accidentaly met in London at a
pub after a Daevid Allen concert. By the way Höyry-Kone means
Steam engine while 'Hyönteisiä voi rakastaa' means 'It's possible to love
insects'. Logic, isn't it?














Hyönteisiä voi rakastaa
APM
APM 9510 AT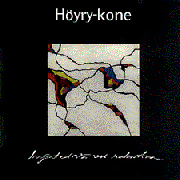 This is the songs contained on 'Hyönteisiä voi rakastaa':
Örn
Raskaana
Hämärän joutomaa
Pannuhuoneesta
Louttamus
Kaivoonkatsoja
Kosto
Hätä
Myrskynmusiikkia
Hyönteiset
Huono Parturi
APM
APM 9720 AT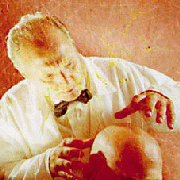 This is the songs contained on 'Huono Parturi':
Beata Viscera
Terva-Antii ku häihin lähti
Karhunkaato
Lumisaha
Baksteri
Houno parturi
Ullakon lelut
Tottele
Kala
Laahustaja
Laina-ajalla