The wreck is located on 7 m depth at Cadaqués, Alt Empordà, Catalonia, Spain. It is dated to 69-89 AD (Emperor Vespasian). It is a small merchant ship (about 9.5 m long).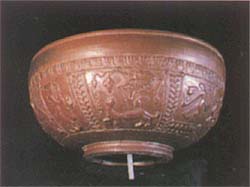 Terra sigillata pottery from Culip IV (Cadaqués). This type of red-tainted pottery was mass produced and popular in Roman times.
Investigations:
Discovered by Xavier Granolleras, march 1984
Excavated in 1984-1988
Published in 1989
Archaeological works director: F.J. Nieto
Underwater archaeological team: Anna Jover, Pere Izquierdo, Albert Martín, Marcel Pujol, Sergi Colomer, Arcadi Abelló, David Matamoros, Maria Mestre, Immaculada Rodríguez and a lot of volunteers.
Finds:
79 amphorae type Dressel 20
7 other amphorae (two Pélichet 46, a Haltern 70, a Gauloise 4, a Dressel 2/4 from Africa* and a Gauloise 1).
1475 vases of thick wall from Baetica
1947 non decorated Terra Sigillata vases
754 decorated Terra Sigillata vases
42 lamps
* Dressel 2/4 is an imitation based on Koan Greek amphorae, with various centers of production: Campania, Tarraconensis, Gallia Narbonensis, as well as rare production in Baetica and Africa.
Main publication:
NIETO, J.; JOVER, A.; IZQUIERDO, P.; PUIG, A.M.; ALAMINOS, A.; MARTÍN, A.; PUJOL, M.; PALOU, H. & COLOMER, S.: "Excavacions arqueològiques subaquàtiques a Cala Culip", I, Girona, 1989, 345 p. and 181 pics.