s/s Paula Faulbaum
The steamer Paula Faulbaum was owned by Max Faulbaum in Stettin, Germany. Under the command of Captain Plinsky, she was loaded with ballast and going from Oskarshamn to Västerås, Sweden.
In the dark evening of October 18, 1941, she headed towards Landsort, south of Stockholm, Sweden. It was raining and the wind was blowing at 18-20 metres/second.
Unfortunately she had no pilot onboard. Apparently the ship went too far in the lighthouse's white sector, and hit a ground, but managed to slip off the ground. This was observed from the Landsort pilot station. The pilot H. A. Sjöblom came out and boarded the ship. The steamer was taken to the lee side of the Landsort island. She was leaking badly, but trying to beach the ship seemed to be no option in the rough sea. So she was anchored, hoping that the ship would float till the morning. All of the crew were rescued to the pilot station.
The next morning the ship had sunk.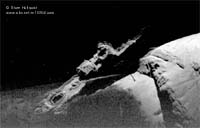 The large and very well preserved wreck lies on a slope. Visibility is relatively good, maybe 5 metres or more. The most shallow part (bow) is on 40 metres depth and the deepest part (stern) is on 70 metres depth.