Bottle and clay pipe types
This is a simple instrument to date a site. The two tables are from the book Marinarkeologi by Swedish archaeologist Catharina Ingelman-Sundberg (Wikens Förlag, Sweden, 1985), by courtesy of the author. Choose a resolution that fits your monitor: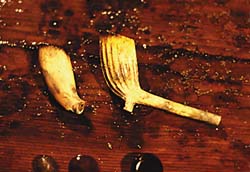 Clay pipes found on the Götheborg, sunk in 1743
Related links
Literature
There are similar typological tables in the book The Underwater Dig by Robert F Marx (New York 1975).
The drawings are made by Pia Christensen, layout by Per Åkesson, scanning by Rune Edberg, 1996
---

Back to Nordic Underwater Archaeology