The Swedish East India Company
In 1743, the Swedish East India Company is at its peak. The ship Götheborg is ready on her third voyage to China. The trading company was founded partially to improve the Swedish economy that was quite bad after years of war against Russia and other neighbours (1700-1720). Trading directly with China was a chance to get high profits.
The ship Götheborg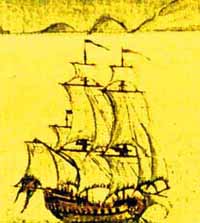 She was built in Gothenburg in 1738. There are no original drawings, but we know that she was carvel built, 40.55 metres long, greatest width 10.3 metres, capacity appr 833 tons. She was a three-masted full rigger.
On board during this voyage was a priest named Petter Holmertz. Thanks to his diary we know the details of this voyage. The crew and passengers probably totalled 141 men.
A sailor on the Götheborg earned about 14 silver dollars per month. That can be compared with farm workers, who only earned 17-20 silver dollars per year.
The voyage
On March 14, 1743 the voyage starts. The normal departure time is December/January. This year they are delayed, which will have consequences. The destination is Canton, China. She rounded Shetland and Scotland and continued to Spain.
The first stop was Cadiz where they stayed one month, re-supplying food stock and selling some Swedish export goods, like iron, wood and tar. In return for the goods, they received Spanish silver, which was necessary for trading with the Chinese. Götheborg was loaded with five tons of silver. For security reasons she had to sail non-stop from Cadiz to Java, usually a three month trip.
On August 28, 1743 the ship finally reaches Java. They are already late and the ship must stay for repairs. Now it's impossible to reach Canton before the monsoon. After a failed effort to sail against the wind they give up and return to Java and wait.
They try again, and in the summer of 1744 they finally reach Canton. They trade and load new goods. The most profitable merchandise is silk, but the largest bulk was tea. 366 tons of tea was loaded. All this was loaded in Canton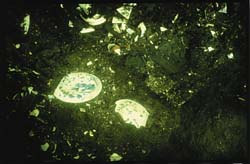 :
6056 bars of Tuttanego, a metal used for making decorations.
289 crates, 12 kegs and 2388 piles of china porcelain.
3,4 tons mother of pearl
1,8 tons pepper
11,4 tons Gallingal, a ginger like spice
2677 crates of tea
19 crates of silk
In total, 650-700 tons of merchandise was loaded. Also about 80 tons of drinking water and 110 tons of food.
The journey home
In January 1745, Götheborg sailed home together with the Riddarhuset, another company ship. On May 12 they round the Cape of Good hope. Both ships face bad weather and disease. During the voyage home, 32 out of the 100 men on the Riddarhuset die. On September 6, 1745 both ships arrive at Dover and hire a pilot for the last trip home to Gothenburg.
Gothenburg
On September 12, 1745 both ships approach Gothenburg with all sails set. For an unexplainable reason, the Götheborg hits an underwater rock in the very entrance to Gothenburg, and disaster is a fact. She slowly sinks in shallow water, in viewing distance from the home port. In 1746, divers rescue about 30% of the cargo, enough for the voyage to end with a 14% profit, despite the wrecking. Since she sank in the salt sea, the wood is slowly eaten by the ship worm Teredo Navalis. The wreck disintegrates and is more or less forgotten. Twice during the 19th century, and again in 1906-1907, cargo was salvaged from the wreck, using helmet divers.
Modern rediscovery
In 1984, amateur archaeologists dive at the site and find plenty of broken china scattered over a large area on the sea bottom.
In 1986 a project foundation is formed by Gothenburg University, Gothenburg city, and sponsoring companies. The area is charted with side scan sonar and a sediment-penetrating sonar, revealing several anomalies.
In July 1986 the excavation starts.
Over 100 persons were involved, mostly volunteering scuba divers.
Excavation technique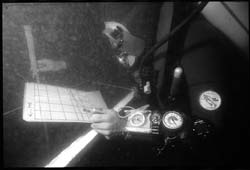 The find area covers 1.008 m².
Totally 252 squares, each 2x2 metre, were defined.
To measure and map all finds, 3 triangulation points were used: the lighthouse Hunnebådan and two artificial 8 metre high poles on the bottom.
The excavation
A 2x2 m grid framework was placed on the bottom. Almost all finds were in the clay under the bottom. Thus the excavation was made one layer at a time, each layer 20 cm thick. The digging was made with an airlift. Everything that came up was filtered on the surface. The finds were continuously conserved.
Parts of the result
1986: Plenty of china porcelain, parts of tea crates, large construction parts of the ship.
1987: Ammunition. personal items from the crew.
1988: Details from the stern.
1989: Intact china porcelain plates.
1990: The original placement of the wreck could be decided.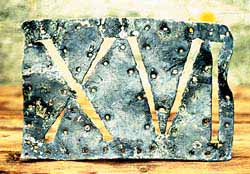 1991: A bar of Tuttanego (German Silver) weighing 21.6 kg.
1992: Last season of excavations.
1993: The area was covered.
Conclusion
Out of the area's 1008 m², 420 m² were excavated. About 5000 finds registered. Plenty of porcelain, tea, galinggal (ginger like spice), crates, spices, cockroach eggs, bible binder, clay pipes, shoes, silk, mother of pearl and various ship details.
There were 8940 kg of broken porcelain and 398 kg of intact porcelain objects. This is described in the book Porcelain from the East Indiaman Götheborg published by Wikens förlag, written by Berit Wästfelt, Bo Gyllensvärd and Jörgen Weibull, ISNB 91-7024-985-7
Ship recreated
A full-size replica is now being made at the Terra Nova shipyard in Gothenburg. Visit the Götheborg home page!
MASG
Except for the project foundation, the excavation was organised by Marinarkeologiska Sällskapet Götheborgskretsen (MASG). It is a local group of MAS, the Swedish Underwater Archaeology Society. For info on MASG you may contact Christer Larsson.
© 1995, Lena Holmgren
Among the recovered objects: