This wooden flat-decked passenger paddle steamer was built by Maschinenfabrik Escher-Wyss & Cie in Zürich in 1854. The cost was 137,000 Swiss Francs and the ship was owned by Société des Bateaux à vapeur du Lac de Neuchâtel.

All passenger areas were made below deck. Except for the tiny bridge, the two paddle housings, and the stairways to below deck, there were no superstructures on the deck.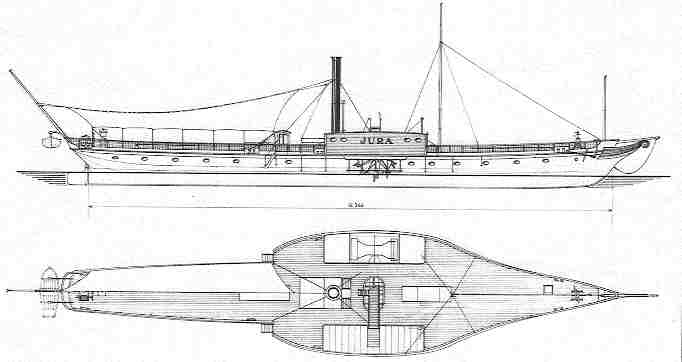 Drawing by Erich Liechti
The wreck
In 1865 she collided with the Swiss ship Stadt Zürich and sank near Bottighofen in the Bodensee Lake (Lake Constance). She lies on 36 m depth. Thanks to the dark and cold (+6ºC) sweetwater lake the ship has been extremely well-preserved.
Destruction?
The wreck was discovered in 1964 by a scuba diver. Since then, and increasingly through the 1990s, this site has been very popular among scuba divers. In 2000 the ship has been badly damaged as a result of intensive scuba diving. Dive boats have (accidentally) anchored in the wreck. Loose objects have been stolen by trophy-hunters and structures have collapsed. Since nails and bolts are corroded, it's often enough with the surge of a finstroke to make planks fall off.
Can damage be reduced with better informed divers, or more restricted scuba diving? Perhaps. One comparison is the regulated wreckdiving in the Åland region of Finland.
Consider the photos on this page a historical document. They were taken a few years ago. The divers of today will find a more devastated site. If nothing is done to prevent the damage, there will soon be nothing more to see. So far, there has been no legal protection for this wreck, since it is on international water between Germany, Switzerland and Austria. This might be a case for international cultural heritage protection.
Ship data
Length: 46 m
Width: 10 m
Draught: 0.9 m
Machine: Standing oscillating 2-cylinder low-pressure machine
Cylinder bore: 813 mm
Power: 45 HP nominal
Average fuel consumption: 500-630 kg wood per hour
Diameter of paddle wheel: 3,11 m
Number of paddles per wheel: 12
Speed: 11,5 to 12 English miles per hour
Passengers: max 400
Per Åkesson
Die Jura ist ein alter Raddampfer aus Holz, der vor ca. 130 Jahren von einem schweizer Schiff, der Stadt Zürich, im Bodensee ca. 1 km vor Bottighofen im Nebel versenkt wurde. Das Schiff wurde im letzten Jahrhundert als Ersatz für ein ebenfalls von der Stadt Zürich versenktes Schiff von einem schweizer Bergsee an den Bodensee gebracht.
1995 war das Schiff noch in einem relativ gut erhaltenen Zustand. Der Bug ist durch den Unfall stark beschädigt und einige Teile sind Opfer der Zeit und leider auch manchem Taucher geworden. Man konnte aber dennoch fast alle Einzelheiten des sehr schönen alten Raddampfers erkennen.
Zu erreichen ist das Wrack nur vom Wasser aus. Man taucht vom Boot aus an der Ankerleine im Freiwasser ca. 36 Meter in die Tiefe ab. Im Bodensee bedeutet dies in jedem Fall einen Nachttauchgang, da in dieser Tiefe kein Tageslicht mehr vordringt. Daher ist ein Tauchgang an die Jura unbedingt nur erfahrenen Tauchern zu empfehlen.
Keine Boje ist auf dem Tauchplatz gesetzt. Es kann mal passieren, daß man, am Grund angekommen, die Jura suchen muß. Die schönste Jahreszeit für Tauchgänge an die Jura ist das Frühjahr und im Spätsommer bis in den Winter hinein. Während der Sommermonate und im späteren Frühjahr ist die Sicht an der Jura durch die Schneeschmelze in den Bergen und durch die Algenblüte oft stark beeinträchtigt.
---
page by Per Åkesson, Dec 2000
photos by Matthias Ludwig
all images are clickable
Related text & links

At the bow of the beautiful and slender hull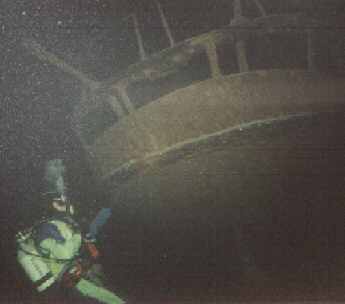 At the rounded stern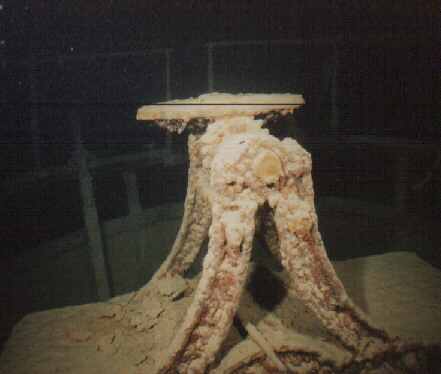 Steering wheel at the stern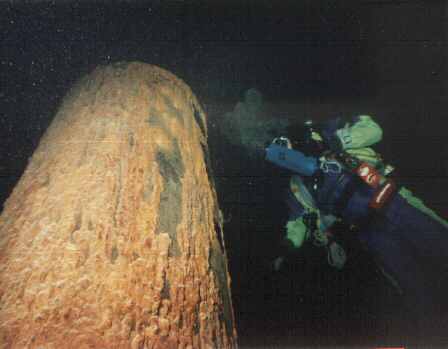 The funnel still standing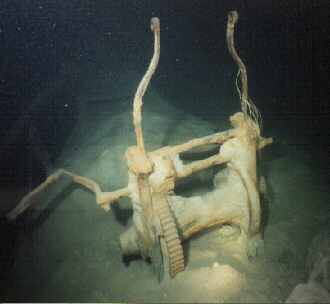 Windlass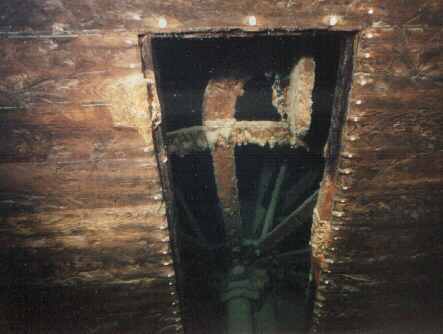 Paddle wheel from the inside.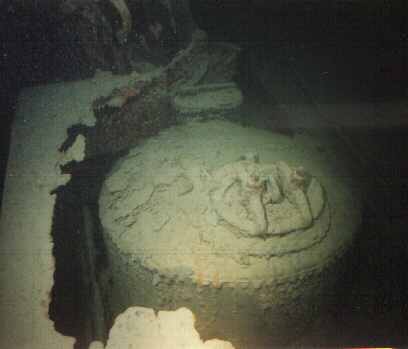 Boiler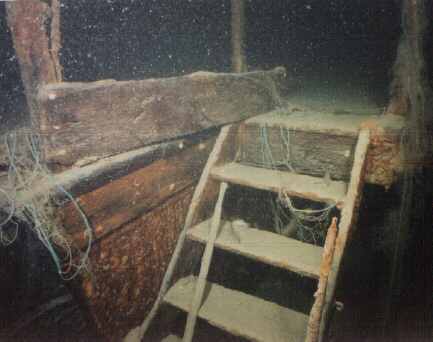 Stairway down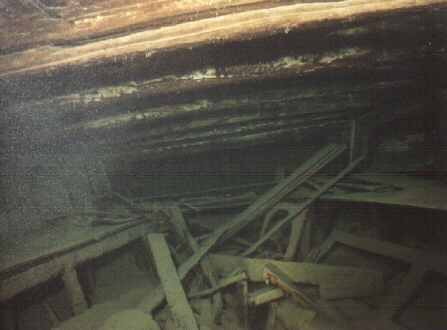 Passenger area below deck, near the stern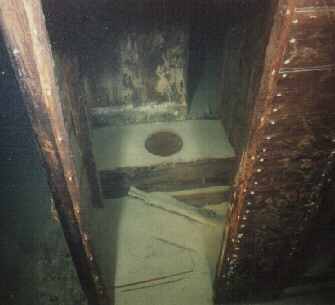 The toilet, in the paddle wheel housing on deck