Experimental Archaeology
This is a way to learn ancient technology by reconstructing an object based on (primarily) archaeological source material. This can be a way to test a hypothesis or an interpretation. During the actual construction it's often necessary to compromise between ancient and modern technology.
A replica is often a ship whose original is well known. If little is known about the original, it's often called a reconstruction.
Full-scale replicas and reconstructions are built for various reasons, e.g. to understand ancient sailing, to preserve the art of traditional shipbuilding, or simply for the fun of it.
Reconstructions are often made life-size using more or less authentic material. But sometimes it's cheaper and easier to build a scale model or let the reconstruction stay in the computer, as a virtual reconstruction.
Now, who will build the first virtual ancient ship? At the time of writing (Aug '99), I don't know of any virtual traditional shipbuilders. But hopefully that has changed by the time you read this. After all we live in the age of Information Revolution. Grab your virtual axe!
Further reading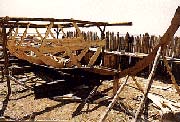 Reconstructing the Lapuri boat