Wrecks in Central America
For centuries, Central America, and Florida, was a crossroads for Spanish flotas, gold and slave cargos, and much more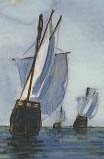 .

Columbus' lost ships. During Columbus' four voyages to America 1492-1502, nine ships were lost, none of which has been found. Of all the earliest European ships that were lost in the New World, almost none have been located. But the search will go on. This was the topic of a theme article in National Geographic, November 1986. Report in Swedish.
Molasses Reef wreck. Unidentified ship sunk around 1513, Turks and Caicos Islands. May have been 19 m long, possibly Spanish. The remains were found in shallow water in 1976. Unfortunately, treasure hunters looted the site with explosives before it could be investigated by the INA in 1984. Later, the investigation was made by non-profit institute Ships of Discovery. Parts of the hull and wrought iron guns remained under ballast stone. Apparently most of the guns were transported as cargo, rather than armament. The excavated artefacts are on display at the Turks and Caicos National Museum. Ref: IJNA 18.3 1989.
Highborn Cay wreck. Remains of presumed Spanish ship sunk in first half of 16th century. Discovered on 6 m depth in the Bahamas in 1965. The site was salvaged, including breech-loaded artillery, without systematic recording and the identity remains a mystery. What remained was investigated by archaeologists in 1985. Ref: IJNA 14.1 1985 & 18.3 1989.
La Nicolasa. In 1526 this Spanish ship loaded with military supplies sank off the Isla Cancún, Mexico. One cannon was recovered in 1959. Ref: Kenneth Hudson, The Book of Shipwrecks (Macmillan 1979).
Santa Maria de Jesús. Spanish galleon heading for Mexico with merchandise, provisions and slaves. Sunk in 1550 off western Puerto Rico.
Ines de Soto wreck. Spanish treasure ship sunk off Cuba ca 1556. Located under layers of coral and investigated 1992-1995. Among the finds were a breech-loaded wrought-iron gun, and silver and gold coins which helped the dating. Ref: National Geographic, July 2001 and Angus Konstam, Atlas versunkener Schiffe (Weltbild, Augsburg 1999).
San José. Spanish treasure ship sunk off Panama in 1631. She may have been loaded with 700 tons of gold and silver. Discovered in 2001.
Nuestra Señora de la Concepción. Spanish galleon loaded with treasure that sank in 1641 outside the Dominican Republic. Found in the 1950s, excavated and explored by treasure hunters. Described in National Geographic, July 1996 and Trésors Engloutis by Pierre de Latil and Jean Rivoire. Link (treasure hunter page).
Nuestra Senora de las Maravillas. Spanish galleon sunk north of the Bahamas in 1656. Located by Robert F. Marx in 1972 under the bottom sand on 10-15 m depth. Treasure including gold, silver and ivory was salvaged in 1988-89 by treasure hunter Herbert Humphreys, on a contract with the Bahamas government.
Pipe wreck, Monte Cristi Bay, Dominican Republic. Sunk between 1652 and 1665, loaded with 30,000 clay pipes, discovered in 1966. Ref: British Museum Encyclopaedia of Underwater and Maritime Archaeology.
L'Ecueil. French warship sunk in 1673 off northern Puerto Rico. The wreck area is located on 18 m depth, so far more looted than investigated.
Conde de Tolosa and Nuestra Señora de Guadalupe. Spanish galleons going from Cadiz to Mexico, sunk by a hurricane in 1724 off the Dominican Republic. Located in 1976 and 1977, salvaged by Caribe Salvage S.A. Among the finds were a cargo of 250 tons of mercury and more than 600 intact olive jars, as well as intact glass and ceramic tableware. Parts of the cargo are displayed in the Casas Reale shipwreck museum in Santo Domingo. Ref: Angus Konstam, Atlas versunkener Schiffe (Weltbild, Augsburg 1999) and Pedro J. Borrell, The Quicksilver Galleons (Comision de Rescate Arqueologico Submarino de La Republica Dominicana).
El Matanero. Spanish ship sunk in 1741 off Yucatán. Investigated in 1957. Ref: Kenneth Hudson: The Book of Shipwrecks (Macmillan 1979)
Musket Ball Wreck. Dominican Republic, investigated by Peter Throckmorton and Simon Q Spooner. Dated to the 1790s.
Palemón. Spanish cargo ship going to Havana from France, sunk in 1839 on the north coast of Cuba. Located and treasure salvaged in 2000 by the Canadian company Visa Gold Explorations.
USS Maine. US battleship built in 1888. In January 1898 she sank by a mysterious explosion, initiating the Spanish-American war. The cause of the explosion remains unclear. In 1911-12 she was raised, investigated, and then towed to deep water to sink again. In 2000 the well-preserved hull was discovered three miles off the coast on 1100 m depth, in Cuban territory. Photo of the stern peak made in October 2001 © ADC.

page by Per Åkesson, rev jul '12
---

Back to Wrecks Worldwide

Back to Nordic Underwater Archaeology