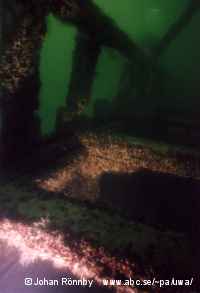 view of the deck beams
The brig was a very common two-masted sailing ship during the 19th century. It was a small ship type used for coastal navigation. It carried square sails on both masts. Towards the end of the 19th century it was replaced by the gaff schooner rigging, which could be navigated with a smaller crew.
Severn was one of many similar brigs. The hull is 23 m long and she was probably built in England at the end of the 18th century. She belonged to the Swedish port Karlskrona. In 1834 she sank off Krogen in the south Stockholm archipelago.
For many years this unidentified wreck was known by scuba divers simply as "Trubbnos" (flat nose). After archival research, the identity was finally established.
The wreck rests on 10 m depth and very well preserved. The hull is in one piece but most of the deck planks are loose and in disorder.
by Per Åkesson, December 1999
Further reading
Literature
Günter Lanitzki: Versunken in der Ostsee (Koehlers Verlan 1993)

Johan Rönnby & Jonathan Adams: Östersjöns sjunkna skepp (Tidens förlag, 1994)