s/s Fråck
This steamer was built by Henderson, Coulborn & Co in Renfrew, Scotland, in 1869. She was named s/s Helge and delivered to a Danish shipowner. The price was £ 14,000.
She was three-masted, one mast for each hold. The bridge deck was between the first and second mast. The engine and skylight was between the second and third mast. The twin engines consisted each of a 4 cylinder compound machine, each connected to separate shafts and propellers. She was 61 m long, 8.5 m wide, and 4.5 m draft. Her capacity was 849 gross tons and 512 net tons.
The owners remained Danish until she was sold in 1915 to a Finnish shipowner on Åland. But the joy was not to last. After only two months with the new owner, she was sunk by the gun of a German submarine in the cold waters off Åland, between Finland and Sweden. The crew was given time to enter the boat and nobody was killed. Perhaps she was sunk because of war supplies among the cargo. At the time Finland belonged to Russia, which was at war with Germany. And the trade with war supplies from "neutral" Sweden was big business.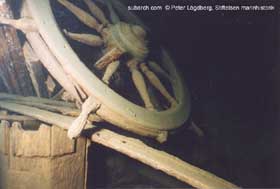 wheel and housing on the bridge
Discovery
In 2001 the intact ship was found in the Åland Archipelago, by Stiftelsen Marinhistorik, using a side scan sonar constructed by Sture Hultquist. The depth is 45-50 m. She was soon identified thanks to the original construction drawings.
Two masts are broken and one mast tilted. The bridge deck has collapsed, but the rest seems perfectly intact. The society Stiftelsen Marinhistorik has made extensive photo documentation, that can be presented or published on request. Additional video documentation can be made on request.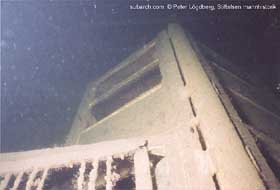 skylight
---
Per Åkesson, April 2002