The Älvsnabben Wreck (Concordia)
This is a two-masted German merchant ship sunken on 12-17 m depth at the south shore of Älvsnabben island, Stockholm south archipelago. The hull is 21 m long and 5.4 m wide. The ship is a galliot, a type with a rounded stern.
The hull is very well preserved and in one piece. On the rear deck, planking is broken up, perhaps by salvors in the 18th century. The wreck was discovered in 1968, and excavated in the 1970s. The cargo turned out to be grain. The time of sinking was estimated very roughly around 1730. For many years this mysterious ship was known as the Älvsnabben wreck.
In 1994, Christian Ahlström in Helsinki, produced a report after extensive archive research. He identifies the ship with the Concordia from Stralsund, that sank in 1754.
The wreck site is situated in a military area. So if you want to dive on the site, it may be a good idea to contact the Berga Naval base (+46-8-502 630 00) in advance.
The photos are made by Peter Lögdberg, Stockholm. The photos are not from the excavated parts. They simply show a well preserved undisturbed site.
Of the literature cited below, I particularly recommend Looking for Leads, published by the Finnish Academy of Science and Letters.
Link
References
Article in MAT 1/81
Carl Olof Cederlund & Ingrid Kaijser: Statens sjöhistoriska museums rapport
Carl Olof Cederlund & Ingrid Kaijser: Statens sjöhistoriska museums rapport # 13 and 14, 1981.
Günter Lanitzki: Versunken in der Ostsee, 1993.
Christian Ahlström: Looking for Leads, Helsinki 1997
Christian Ahlström: Spår av hav, yxa och penna, Helsinki 1995.
IJNA 6.2 1977
Per Åkesson, July 1998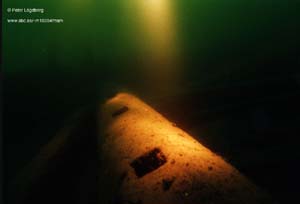 windlass still in position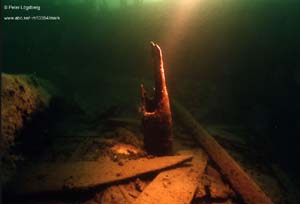 wooden tube of the pump sticking up above deck level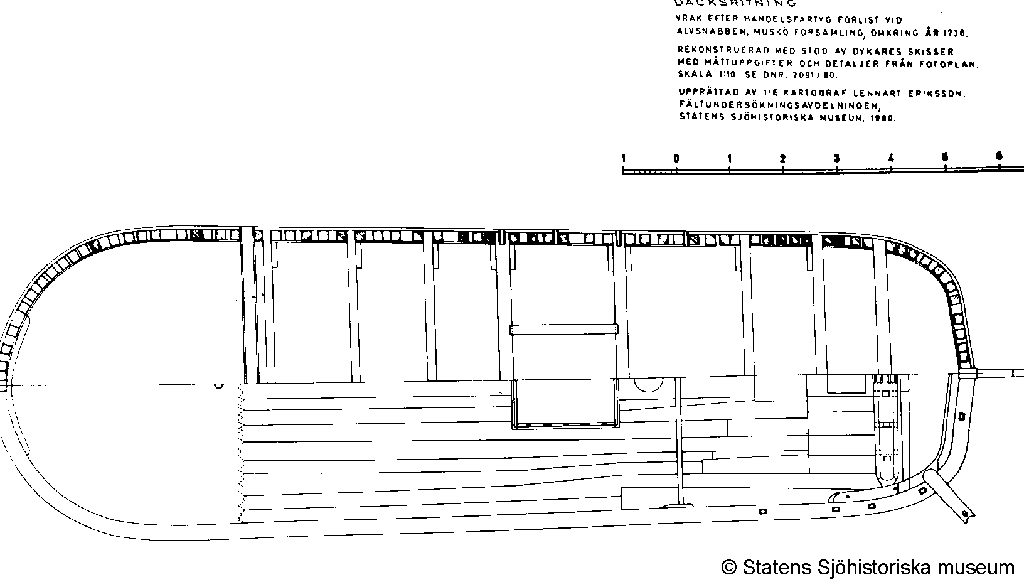 Deck drawing, by Lennart Eriksson, Swedish National Maritime Museum.