Jürgen Fritzen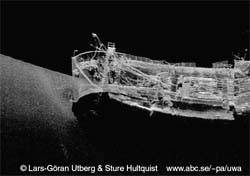 This was a German, 124 m long, cargo ship loaded with coal. On April 20, 1940 she sank on 73-80 m depth about 1 nautical mile from Landsort.
A small image (56K) of "Fritzen" or "Ernst Hugo Stinnes".
A big image. (176K) Sorry if the image is to big for your screen ...
Some confusion about the name, there are documents with both names.
This image is done by a friend, but with my equipment.
It was rather tricky to do this image.
Sture Hultquist
---