Maritime Archaeology Department
Western Australia Maritime Museum

---
Maritime archaeological collections from the sea floor through preservation to display in the Museum Galleries.
Archaeological material recovered from historic shipwrecks on the Western Australian coast was a catalyst in the development of the Western Australian Maritime Museum. The Museum is one of the few museums in the world specifically oriented to the preservation and display of maritime archaeological material.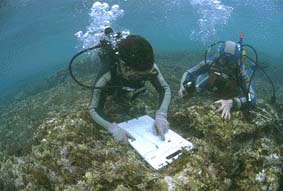 Objects from shipwrecks, including the vessels themselves, are rarely found in pristine condition. Mostly, they are slightly damaged, broken into hundreds of small pieces or badly eroded. To discover an intact fragile artefact buried in the sea-bed is a most exciting experience!
Part of the work of the Maritime Archaeology Department is to register, document and research the shipwreck collections in order to identify the various components of the ship – its hull structure, fastenings, fittings etc., and its contents – ship's equipment, stores, cargo, personal possessions of the crew, and so on.
Documentation begins at the shipwreck site, as soon as objects are raised, and continues back at the Museum. Gathering information from archival and other sources, and piecing it together can be very time consuming. Likewise, fitting together broken pottery sherds or fragments of inorganic and organic materials takes many hours of patient work. But this is often the only way to discover what the original objects were. Once the identity and origin of the artefacts are established, an interpretation of the way particular ships were built, of life on board, trade and other commercial shipping activities, can then be developed. The information is incorporated into Museum exhibits and publications.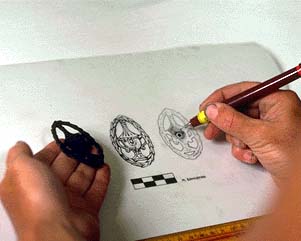 The function or use of individual objects found on a shipwreck site is frequently determined by associated artefacts. Groups (or assemblages) of artefacts may therefore have a particular archaeological significance and, for this reason, are exhibited together: we could not interpret the meaning of one without the other. Displaying maritime archaeological material is a specialised task since many artefacts have lost their original strength and need to be carefully supported. Others have been reconstructed to demonstrate their original form. The maritime archaeological collection contains material dating from the early 17th century through to the late 19th century. It provides tangible evidence of the early presence of English, Dutch and American seafarers on the west coast of Australia (Trial 1622, Batavia 1629, Vergulde Draeck 1656, Zuytdorp 1712, Zeewijk 1727 and Rapid 1811), of shipping activity associated with British colonisation of Western Australia and of the development of the State.
By Jeremy Green
Western Australian Maritime Museum
Cliff Street, Fremantle
WA 6160, Australia
Tel: +61-9-431 8444, Fax: +61-9-335 7224
Related links
Article published on Nordic Underwater Archaeology, Sep '99
Text & photos © Western Australian Maritime Museum