Nossa Senhora dos Mártires
presumably the "Pepper Wreck" or São Julião da Barra 2
The wreck was found in 1993, during an archaeological survey promoted by the Museu Nacional de Arqueologia under the direction of Dr. Francisco Alves, and excavated in 1996, 1997, 1999 and 2000. This was one of several wrecks found in the area in São Julião da Barra at the mouth of the Tagus river, only a few miles off Lisbon.
This wreck yielded a large collection of artefacts dated from the late 16th and early 17th centuries, including Chinese ceramics, an astrolabe, and a large anchor. Plenty of pepper was also found under the bottom sand, yielding the nickname "Pepper Wreck".
It is presumed to be the nau Nossa Senhora dos Mártires wrecked on September 15, 1606 on its way back from India. The study of its hull remains – which include a section of the keel, eleven frames, and some of the planking – is still under way, but already suggests a keel length of 27.7 m (18 rumos), a beam around 12 m and a depth in hold around 9 m, and 39 pre-designed and pre-assembled frames.
The hull and other finds are presently being investigated at the Texas A&M University.
by Filipe Castro, Dec '00

Related documents
Pewter Plates from São Julião da Barra, Filipe Castro

Geneaology & Archaeology of Portuguese Ships at Dawning of Modern World, F. Alves
Portuguese vs Spanish Shipbuilding Practices, Paulo Monteiro
Législation et géstion du patrimoine archéologique subaquatique au Portugal, F. Alves
Link
Shiplab, INA
Literature
Nossa Senhora dos Mártires – The last voyage (Portuguese Ministry of Culture, 1998)
| | |
| --- | --- |
| Hull planking during the 1996 fieldwork. Photo: F. Alves | Hull planking during the 1996 fieldwork. Photo: F. Alves |
| Note the lead roll inserted into a plank crack. Photo: Augusto Salgado | Chinese porcelain, 1997. Photo: F. Alves |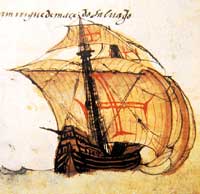 Portuguese nau from Livro da Memoria das Armadas c 1550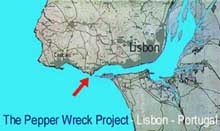 Location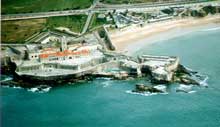 Wrecksite just off the fort São Julião da Barra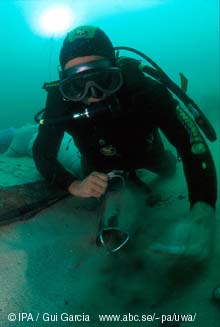 Excavating with the airlift, 1999. Photo: Gui Garcia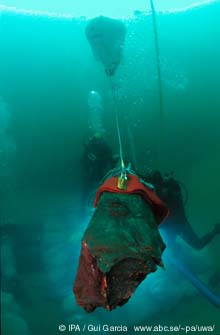 Hull timber raised with liftbag, 1999. Photo Gui Garcia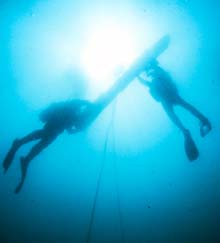 Slowly towards surface, 1999. Photo Gui Garcia
.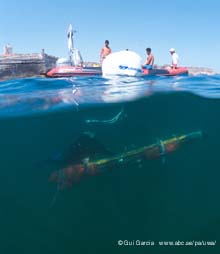 Hull timber reaching surface, 1999 fieldwork. Photo: Gui Garcia