About Per Åkesson
Living in Stockholm, Sweden. Editor of Nordic Underwater Archaeology. I started diving in 1978, inspired by Cousteau. I am an amateur underwater archaeologist and a member or the Swedish Underwater Archaeology Society.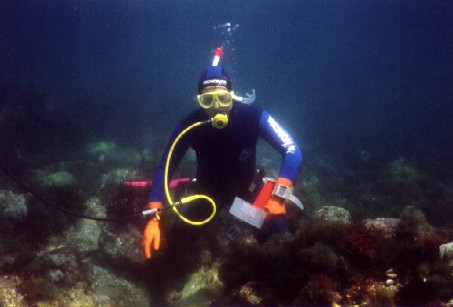 SPA fieldwork 1999, Portugal
Diving qualifications:
Swedish "A class" commercial license, issued by Swedish Navy
Australian 2815.2 Restricted Diver Accreditation Scheme Part 1, commercial diver (thanks to the Dive Bell)
CMAS * diving instructor
Other qualifications:
BA in Journalism, Stockholm University
Studies in underwater archaeology and Antiquity, Stockholm University, as well as South Stockholm University College
Studies in languages and literature in USA, France and Russia
Studies in computer science, Royal Institute of Technology
Professional free-lance translator since 1987
In 1993 I searched for wrecks in Estonia using side scan sonar. In 1996 I sailed on a 13th century replica ship to Estonia. No motor, just sail and oars. In 1997 I excavated wrecks in Poland, in 1998 I participated in the Pandora expedition, and in 1999 wreck search in Bretagne and excavation on San Pedro de Alcantara.
For my living, I write articles for newspapers and magazines, translate technical texts, teach math, hold computer courses for beginners ("Click that Start button!"), and edit or develop web sites. In 2002 I worked as a TV reporter for Swedish National Television. If you want my services, let me know.
If I had Janis Joplin by my side, I'd ask her to sing "Oh Lord, won't you buy me a rebreathing kit". A rebreather is a piece of expensive diving equipment.
I can be contacted by email: