Purpose & Origin
During the 19th century the brig was a standard cargo ship. A brig is defined as a two-masted ship carrying yardsails on both masts. The brig was fast and well sailing, but required a large crew for the yardsails. Around the turn of the century the brigs lost in competition against the steamers and the gaffsail schooners, which needed much smaller crew. The last Swedish brig was destroyed in 1959 and today not one original brig survives in Sweden. Thus this replica is being built.
The original ship Gladan was built in 1857 for the Swedish Navy as a transport ship. From 1881 she served as a training ship, and in 1924 she was scrapped. Even though she is long since gone, she is very well documented. That is why the Gladan was chosen as a model for the building project.
Data & Preparations
Just like the old Gladan, the ship will be 35 m long, 8 m wide, and carrying 700 m2 sails on its two masts. She will have a displacement of 350 tons. The total cost is estimated at 23 million SEK (about 3 million USD). Like all replica projects, this ship relies heavily on volunteer work and sponsors. The support society has 850 members, and can be contacted through Sture Haglund.
After studying original drawings and photos, new drawings have been made using a 3D CAD program, Maxsurf Plus from Formation Design Systems. The drawings are made by Gustaf Dillner. The actual building work is made as far as possible with traditional methods and material. However, modern power tools are used and the ship will have a diesel auxiliary engine.
Progress
The building site is on Skeppsholmen, Stockholm, Sweden. The keel and stem were laid during the 97-98 winter. In May 1998, 20 strakes are up in position. In 2005 the hull was finished and finally launched, now only the rigging remains to finish.
by Per ┼kesson, May 1998, rev 2006

The first strakes up in January 1998. Photo by Urban HallÚn, Dagens Industri


Already by May, 1998, 20 strakes are up. Photo by Per ┼kesson.
Further reading
Archive photos from the Swedish National Maritime Museum. Page revised June 98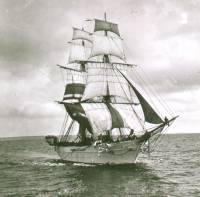 Gladan in the early 20th century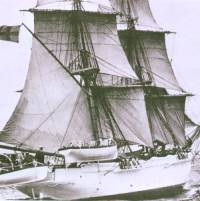 Painted white as a Navy ship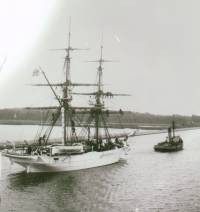 Towing to the Navy base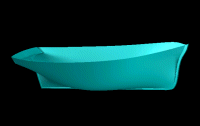 3D rendering of the hull by Gustaf Dillner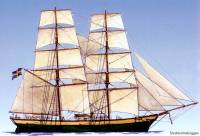 Drawing of the coming ship, made by Allan Palmer