Traditional Nordic ship links

Nordic wooden ship & boat builders

Träskeppsvarvet i Gamleby AB, Loftagatan 5, S-594 32 Gamleby, Sweden, tel +46-493-12164, fax +46-493-10174. Repairing & building wooden ships.
Wooden shipbuilder Gustaf Dillner, Stockholm, Sweden
Oselvarverkstaden, Norway
Øya båtbyggeri, Sandefjord, Norway

The items and links on this page are just a selection not claiming to be representative or updated. There are many original vintage sailing ships in the world, not covered here, but may be found at other maritime sites, e.g. here, at Schoonerman or using a search engine. The Viking Age picture stone to the right is c 1.5 m tall, displayed at the Museum of History, Stockholm, Sweden. It illustrates mythological scenes in a crude style reminding of the much older Greek Geometrical style. Page rev jan '12.
---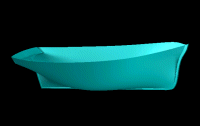 Back to Replicas & Shipbuilding

Back to Nordic Underwater Archaeology