But then.........

While I was at home in Stockholm for some weeks, there were some severe night frosts, the wind was blowing strongly and the sun was burning. When I returned in the end of May almost all the seedlings had died and the plants in the field had hardly any green leafs left. Instead the plants had developed large buds. I was desperate and convinced, that none of the plants would survive.
I started feeding the plants and watering them, watering them, watering them. There was no rain and the strong northern wind continued day after day. But the watering seemed to help and after a week I felt a little more confident. In the middle of June the first plants started blooming. The large flowers opened on unusually short stalks, an effect of the drought.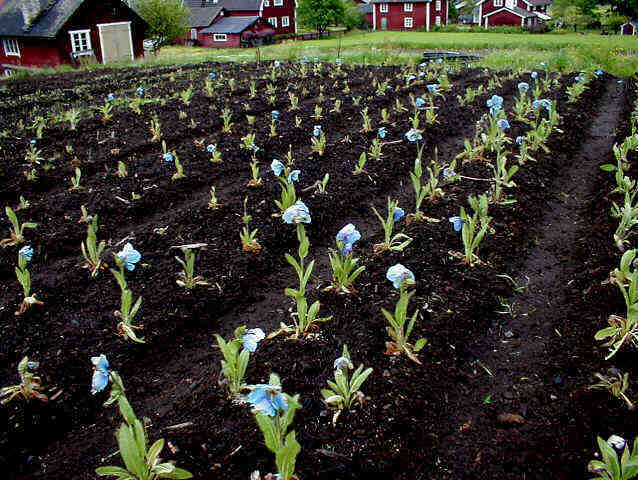 June 2001
Among all the bright blue flowers, there were two plants with dark violet flowers. One of them died almost immediately without even leaving some seed. But the other one developed into a strong plant, and had at least five rosettes of leafs in fall 2001. I am planning to propagate this plant and call it 'Gabriel Fiedler' in honour of my eldest grandson.
| | | |
| --- | --- | --- |
| | | |
| The large flowers are sitting on unusually short stalks | | Gabriel Fiedler |
Fall/winter 2001
When fall arrived, I could summarise my experiences of these two first years:
Most of the plants had survived the cold and dry spring as well as the long spell of unusually high temperatures in June and July. But I had not been able to increase the number of plants this year. The few seedlings which had survived the spring replaced the plants, which had died in the field. The plants didn't set very much seed and the seed was of bad quality. But that was the same with the Meconopsis in my garden, which in earlier years had provided me with lots of seed of good quality. The bad results have probably been due to the extreme climate that we had experienced this summer. In spite of a lot of bad luck, my conclusions are, that it is possible to grow Meconopsis in an open field - even if there are late frosts, drought and burning sun.
In the end of December 2001 there are already a lot of new seedlings on my balcony and more should germinate during the coming spring. Additionally I sowed some rows in the open field in October 2001. I am going to report about the outcome of my sowing experiments in spring 2002.