Some time during 1070-1090 AD, five Viking ships were sunk at Skuldelev, Denmark, to make a barrage across a narrow channel. Centuries passed and the ships were nearly forgotten. However, local fishermen knew about this wreckage laying in shallow water. According to legend, this was supposed to be the ship of medieval Queen Margaret (c 1400 AD).
Already in 1898, parts were found by a skipper who gave them to the National Museum. And in 1924, some parts were salvaged, when the passage through the barrage was widened.
In 1953, professional helmet diver Jan Uhre located parts of a ship in the murky water.
In 1956, sports divers Åge Skjelborg and Hartvig Conradsen found an old ship frame in bad visibility on about 2 m depth, and reported this to the National Museum.
The museum, represented by Ole Crumlin-Pedersen and Olaf Olsen, started examining the site in 1957, together with Åge Skjelborg, Hartvig Conradsen and Per Wulff. It soon became clear that this was from Viking Age, and not Queen Margaret's ship. However, the barrage may have been used until medieval times. Plenty of stones had to be removed before reaching the underlying ships.
Cofferdam
In 1962 the work area was drained using a cofferdam, turning it into a land excavation. The investigations continued until 1969. All ship parts were recovered and conserved with PEG. Prior to conservation all pieces were drawn in full scale on transparent sheets.
The ships are now displayed at the Viking Ship Museum in Roskilde, near Copenhagen.
It was first believed that there were six ships, but in fact they were five. So they are still numbered "1, 2, 3, 5 and 6". All of the ships are dated to 11th century AD, and clinker built with iron rivets.
Strandengen, DK-4000 Roskilde, Denmark, tel +45-46 300 200. Opening hours: daily 10-5.
The museum has recently expanded, including a new building, and is investigating the Roskilde ships, found under the museum in 1997.
Links
Link in Danish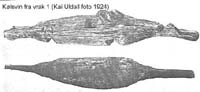 mast step recovered in 1924