Intact flute located – new find in the Baltic
On 15 November 2007 the Swedish National Television broadcast their new popular science series Vrakletarna (The Wreck Locators). Using a research ship with side scan sonar, ROV and technical divers, they had investigated known or suspected wreck locations in the Baltic Sea.
The operation was carried out together with Deep Sea Productions and Marin Mätteknik.
The ship is located on 125 m depth on international water in the Baltic Sea, and filmed with a ROV. The length is 25 m and the lower sections of the two masts are still standing. The hull is richly decorated with carved figures and a sterncastle that is partially painted or gilded.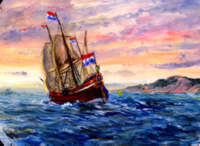 The gunports carry no guns and seem to be just decoration. The ship type appears to be a flute, a Dutch merchant ship of the 17th century. Hopefully it will be investigated and identified in due time.
Links with illustrations:
Per Åkesson, November 2007