S/S Cedric
This ship was built in 1881 in West Hartlepool, England. She was 69 m long, 9 m wide and had a draught of 5 m. The steam engine had 600 hp. In 1899 she was sold to Windau, Russia (present Latvian Ventspils), and in 1906 she became Swedish under the name Cedric.
During the night between December 15 and 16, 1910, she is loaded with coal and sails towards the Swedish port Gävle in the north Baltic Sea. The visibility is bad and the wind is hard. Entering the Bay of Gävle, she crew fails to see the Grundkallen lighthouse and she comes off course.
At 4.30 AM she hits the Argos Ground and sinks quickly with her heavy cargo. Nine of the 15 men manage to get into the lifeboat. The boat is water-filled and floats only thanks to its watertight compartments. During the ice cold night six men die in the boat, one by one. The stoker Olof Olsson, nearly out of his mind, uttered his last words "Give my regards to my wife and children", before he went overboard.
After 17 hours of struggle, three survivors, the captain P. Edvard Paulsson, chief engineer K. Bertzholtz and mate Martin Nilsen, reach the mainland and are saved.
The wreck position remained unknown. In 1993 Cedric was discovered on 39 m depth by "Stiftelsen Marinhistorik" after archive research, side scan sonar search, and diving.
The divers found an untouched virgin wreck, entangled in fishnets, but in very good condition. No trace has been found of the victims.
It is legal to dive on the site, but few divers go there. It's far out in open sea, and only a few people know how the spot the site.
by Per Åkesson, April 1997
Source
Report from Stiftelsen Marinhistorik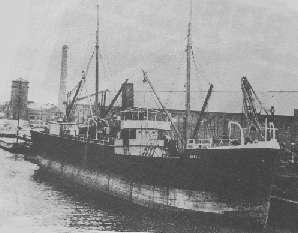 Archive photo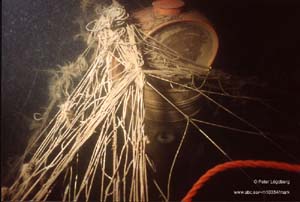 The compass house in fishnets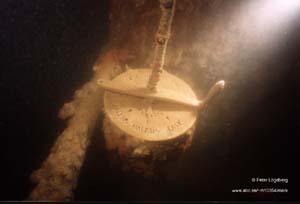 The machine telegraph on half speed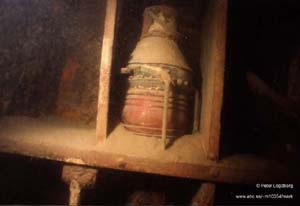 An anchor lantern standing on its shelf in the lantern room