For Larger Images
Click on Pictures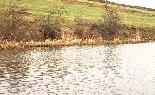 *
"Winding Holes" are best
described as "pockets" along
the canal provided to enable
boats that are longer than the
width of the canal to turn
around.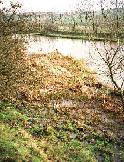 (a)
Niffany.

The remains of this boat are located approximately two miles (3 km) west of the town of Skipton in North Yorkshire (Ordinance Survey Map Reference SD 9653 5169) and occupy an overgrown area within a "winding hole"* on the canal. Very little of what now remains of the vessel is obvious on the surface and during the Summer these remains are totally obscured by reed growth.

In 1994 the site was the subject of a pre-disturbance survey which identified and documented the surface remains of the vessel. Based on this survey it would seem that the entire port side of the vessel has all but disappeared, decay probably having being accelerated by turning boats and the subsequent wash. Virtually all timber above the surface of the water has now disappeared or is in an advanced state of decomposition. However over time the remains of the vessel have listed to starboard on the pronounced "V" cross-section of the hull submerging and preserving a large section of the starboard side of the hull.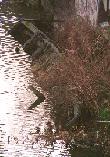 (b)
Botany Bay Yard, Armley, Leeds
To the west of Leeds, approximately a mile (1.6km) from the centre of the city (Ordinance Survey Map Reference SE 42777 43403).
Virtually the entire boat remains which it would seem settled at its mooring. The overall condition of the boat and particularly of the submerged starboard side is not known as access for preliminary examination was limited.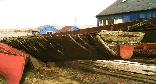 (c)
Ellesmere Port Boat Museum.
This boat was originally located at Lydiate upon the western section of the canal. The boat was removed from the canal in 1979, at which time it was transferred to the museum.
At the time of transfer the boat was virtually complete but the structure has now deteriorated significantly since its removal from the water.