The Viking
To participate in the festivities around the celebration of the 400th anniversary of Columbus' discovery of America in 1892-93, a Viking ship reconstruction was built in Sandefjord, Norway. It was based on the Gokstad find, built of oak by commander Chr. Christensen in Sandefjord, and was named simply Viking.
The Viking sailed under captain Magnus Andersen from Bergen, Norway, and reached Newfoundland four weeks later. It sailed to New York and then attended the Chicago World Fair in 1893. The ship did not receive much attention since the world fair theme was to honour Christopher Columbus' discovery of America. The Norwegians had the nerve to suggest Leif Ericsson was there first.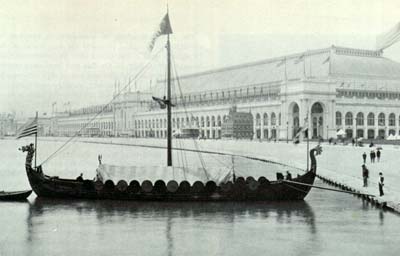 Photo from the Columbian festivities
The ship was first stored in the Field Columbian Museum in Chicago, then restored in 1919 and stored in Lincoln Park, Chicago. It was seen there as late as the 1970s.
According to latest reports, it is in the joint custody of the American Scandinavian Society and Chicago Park District. They are in the process of conservation of the ship at this time. The contact for more information is:
William Carlson, American Scandinavian Council, 2644 E. Dempster Street, Suite 201, Des Plaines, Il. 60016-5311, USA. Phone (708) 635-1199
Per Åkesson, October 1998
Related link:
Pressure Preservative Treatment of Structural Glued Laminated Timber, mentioning present state of this ship
Credit & Source:
Thanks to Gerhard Schlenker for research.

"Vikingeskipene" by A.W. Brøgger, 1950

"The Viking Ships, Their Ancestry and Evolution" by A.W. Brøgger, English translation 1953 and 1971
revised feb '03